The complete Kapoor 'Khaandan' was absolutely looking 'jhakaas' at the destination wedding ceremony of their cousin in Abu Dhabi, and it was definitely the big fat Indian Wedding!
Arjun Kapoor, Rhea, Sonam Kapoor and all the other famous Kapoor sisters were present at the 'shaadi'. But this time it was not just the Sonam who made the style statement but also other Kapoor 'behenas' were just looking equally stunning.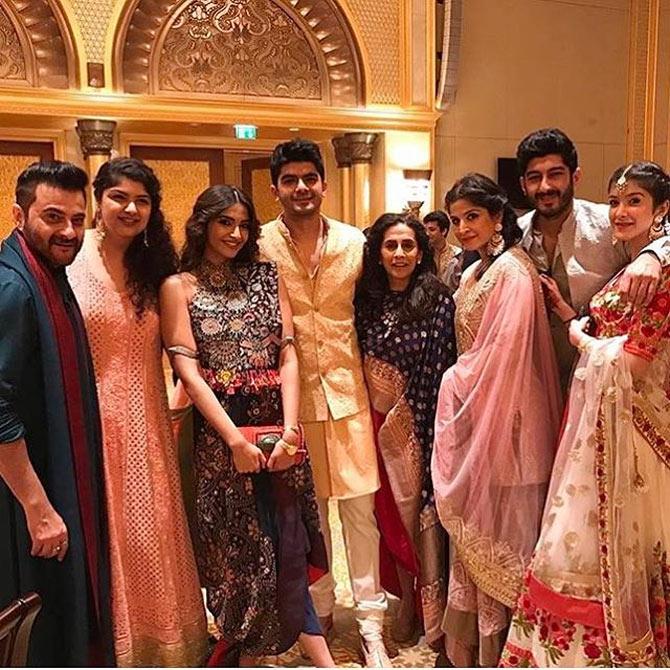 The wedding ceremony was of Akshay Marwah was filled with style setters and Instagram of Arjun Kapoor just raged with their having fun pictures. The 31 Year old Macho and the National Award winner Sonam Looked absolutely best siblings in their ethnic attires. Arjun styled up with silk Kurta and Pyjama while Sonam donned a complete Boho/chic look with a tasseled floral halter blouse and a skirt with the same print along with a short trail. the illusion was perfectly created as a saree and was definitely pulling a swag for the function.
 Rhea Kapoor Sister of Sonam Kapoor donned the beautiful maang tika on her forehead and a beautiful pink embroidered long coat-blouse with a gorgeous black saree for the ceremony.
And now the comes the daughters of Boney Kapoor and the beautiful Sridevi. And among them Jhanvi successfully grabbed the attention with her Manish malhotra ensemble of off shoulder light pink and floral lehenga.
And we shall not forget the Shanaya Kapoor in the line. Daughter of Sanjay Kapoor (brother of Anil Kapoor) and Maheep Kapoor, onto whom the shutterbugs just got stuck when she wore the beautiful floral elbow length blouse and Lehenga. She was a definite stunner.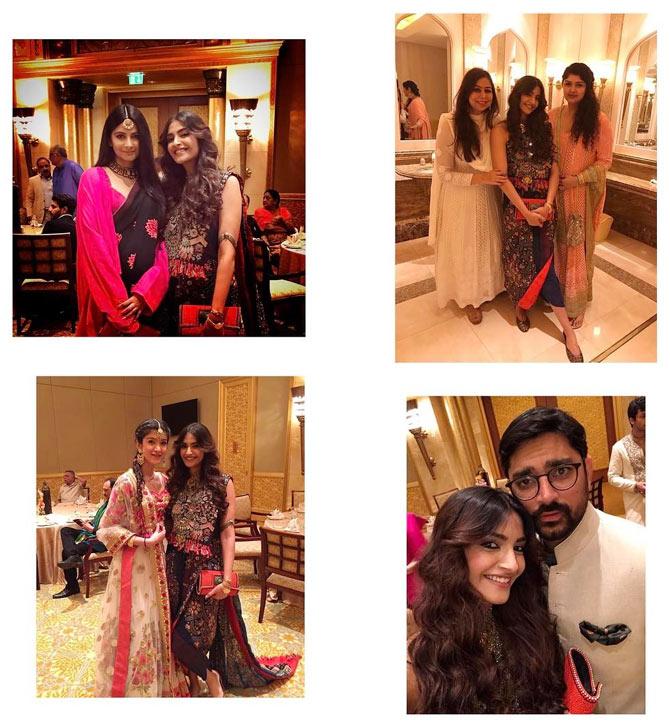 All in all the wedding was completely star struck and everyone just had a complete blast. Oh! don't just go by my words go check it on their Instagram profiles and you would know what exactly I am talking about!
Sridevi- https://www.instagram.com/sridevi.kapoor/?hl=en
Sonam- https://www.instagram.com/sonamkapoor/?hl=en
Maheep: https://www.instagram.com/maheepkapoor/?hl=en
Arjun: https://www.instagram.com/arjunkapoor/?hl=en
Jhanvi: https://www.instagram.com/jhanvi_kapoor_/?hl=en